I've never posted a recipe on here that I didn't enjoy, aaaaand I hate to play favorites. But if I did, these would definitely be up there on the list! I've made them for the past three weeks in a row, because they've been exactly what my sweet tooth is asking for. Plus, they have the perfect combination of sweet and chewy that will hopefully make you feel the same!
Tahini is one of my all-time favorite ingredients in both sweet and recipes, and if you haven't tried adding it into cookies yet, let this be your sign.
If you're like me and always have a jar or two hanging out in the pantry, you can also check out these recipes to put that tahini to good use:
But not only is tahini one of the tastiest ingredients, it's also a nutrition powerhouse with tons of healthy fats, vitamins, minerals and antioxidants.
In addition to the tahini, rolled oats are another pantry staple that I love to throw into cookies, energy balls, homemade granola bars – you name it. You can also opt for a gluten free version here as well.
As for the chocolate chips, I always use the Lily's Sweets stevia-sweetened baking chips, because they keep these lower in sugar without compromising taste. You can snag them online or at Whole Foods!
You'll just mix these up with a few other pantry staples like vanilla, maple syrup, almond flour, cinnamon and salt before you bake 'em up. And if you're like me and prefer your desserts to be a little dense, throw these in the freezer to grab anytime. Hope you enjoy, y'all!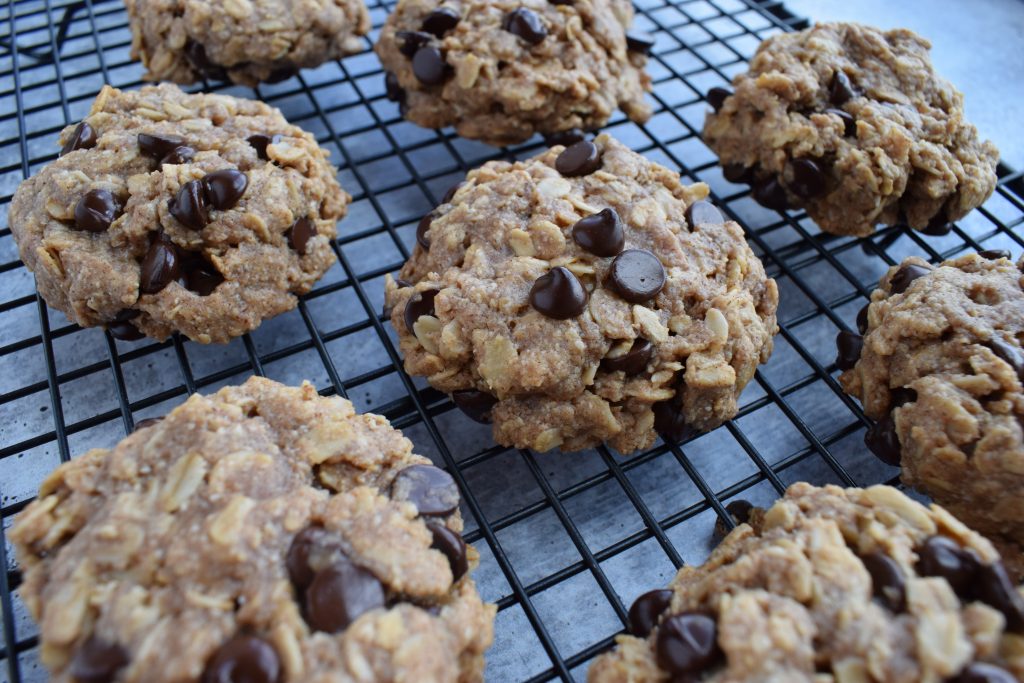 ---
Ingrediz
½

cup

tahini

1

cup

rolled oats (gluten-free optional)

⅓

cup

almond flour

¼

cup

maple syrup

⅓

cup

chocolate chips

I used Lily's Stevia-Sweetened Baking Chips

½

tsp

cinnamon

1

tsp

vanilla

pinch of salt
Directions
1
Preheat your oven to 350 degrees. Line a baking sheet with parchment paper, and set aside.
2
To a medium-sized bowl, add tahini, maple syrup and vanilla. Mix together.
3
Pour in oats, almond flour, cinnamon, and salt. Mix to combine completely.
4
Add chocolate chips, and mix to incorporate.
5
Use a cookie scooper or your hands to roll into 9 balls, and place on your parchment-lined baking sheet.
6
Press cookies down slightly with your fingers to flatten.
7
Bake for about 12 minutes, until the cookies are golden on the bottom.
8
Allow to cool and enjoy!
The latest goods, right in your inbox.
Drop your email below to receive weekly wellness tips, health hacks, recipe inspiration & more!
We hate SPAM. We will never sell your information, for any reason.