No-Bake Mango Coconut Ice Cream Bars
Aug 04, 2023
It's been a minute since I've shared a no-bake dessert, and if you've been here a while, you know I'm ALL about any sort of ice cream/cheesecake bar situation.
If you're new to the idea, check out these recipes, and I can guarantee you'll be sold:
Considering I've received an abundance of mangos from my neighbor this summer who has a massive tree in her yard, this flavor combo was a no brainer.
While I have several new mango recipes up my sleeve coming soon, you can also check these out in the meantime if you love it as much as I do: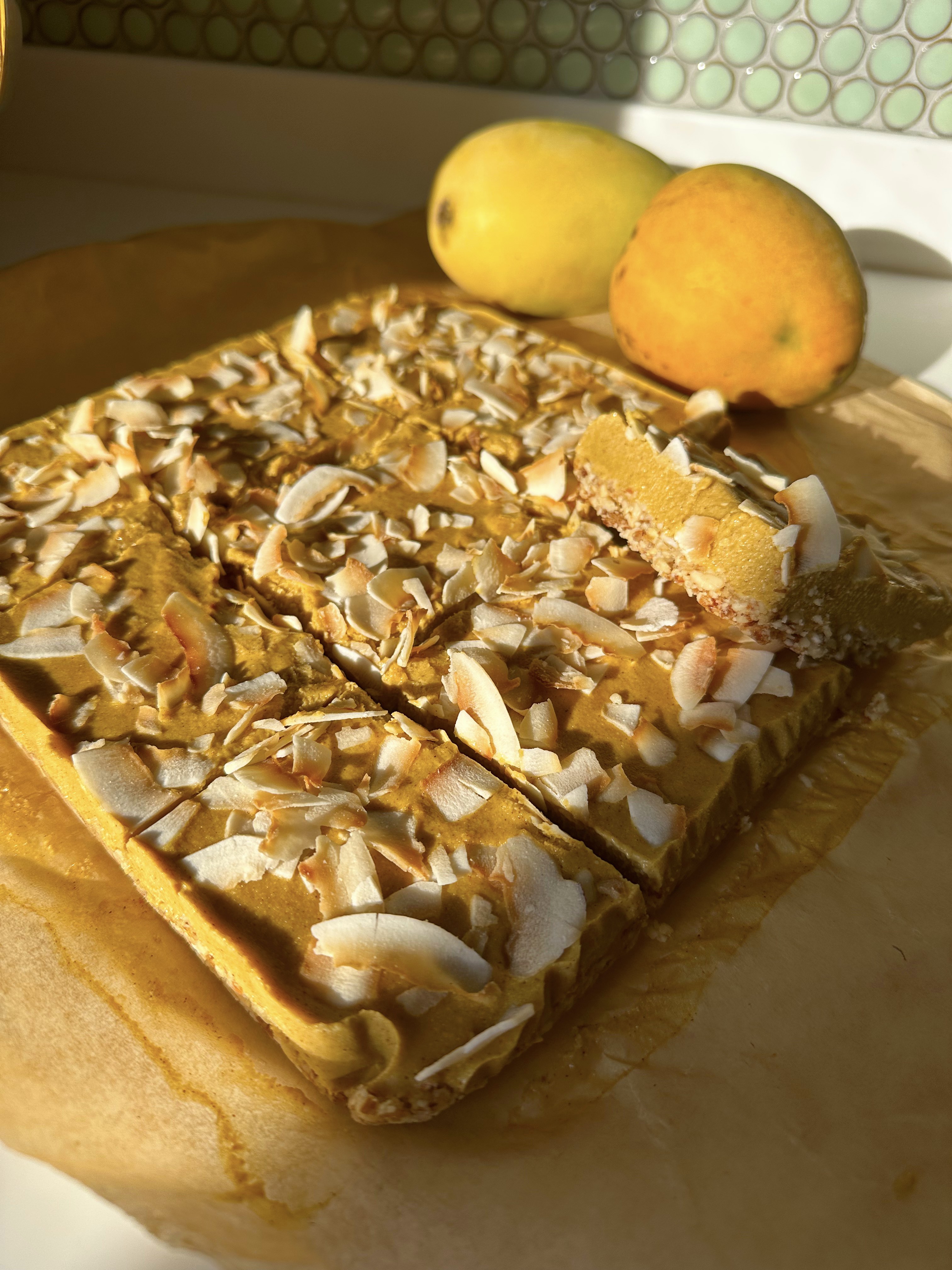 The crust is made from super easy, pantry-staple ingredients, many of which you might already have stocked. Blend together dates, coconut, and the nuts of your choice - here I used almonds and cashews. This provides the best combination of chew, crunch, and texture that makes these bars to dang delicious.
Yet the star of the show is the simple "ice cream" layer that takes minutes to whip up (and requires no churning like the real deal, thankfully).
Blend together cashews that have been soaked and drained (to soften) with ripe mango, coconut cream (adds so much creaminess and texture), maple syrup, lemon juice (for a little acidity to balance the sweet), vanilla extract, cinnamon, and a pinch of salt.
Pour this over the crust, and spread into an even layer. I love to top it off with toasted coconut flakes for a little extra punch of flavor. Now, just let the freezer do its thing - once they've set up, you'll cup them into squares, and enjoy!
Keep them stored in the freezer before serving at your next party, dinner at home, or whenever the craving strikes.
---
Yields 9 servings
Ingredients
Crust
1

cup

cashews

1

cup

almonds

1

cup

pitted dates

½

cup

unsweetened, desiccated (or shredded) coconut

pinch of salt
Mango "Ice Cream" Layer
1 cup ripe mango, fresh or frozen (then thawed)

½

cup

coconut cream

1

cup

cashews, soaked for at least 4 hours and drained

¼

cup

maple syrup

j

uice of one lemon

1

tsp

cinnamon

1 tsp

vanilla extract

pinch of salt
Directions
1. In a blender or food processor, add cashews, almonds, coconut, dates, and salt. Mix until crumbly. *Note* If your dates are a little dry, soak in warm water for 10 minutes before blending.
2.
Line an 8x8 baking pan with parchment paper (this makes for an easier removal). Pour mixture into the baking dish, and use your hands or a spatula to press into an even crust.
3.
Add drained cashews, mango, coconut cream, lemon juice, maple syrup, vanilla extract, cinnamon, and salt to blender or food processor. Mix until smooth and creamy.
4.
Pour filling on top of crust and smooth into an even layer. Top with toasted coconut flakes.
5.
Freeze for at least a couple of hours before slicing into 9 squares and serving. Enjoy!
The latest goods, right in your inbox.
Drop your email below to receive weekly wellness tips, health hacks, recipe inspiration & more!
We hate SPAM. We will never sell your information, for any reason.